XC3S400

-TB

Spartan-3 XC3S400 TinyBoard
Category: Development Board, Xilinx FPGA, Xilinx Spartan-3, Xilinx XC3S400, Spartan-3 Board
Keywords: FPGA, Field Programmable Gate Array, FPGA Development Board, FPGA Prototype Board, Xilinx XC3S400
Spartan-3 XC3S400 TinyBoard
Spartan-3 XC3S400 Development Board with XC3S400-4PQG208C and Platform Flash / Configuration Flash, Spartan-3 Board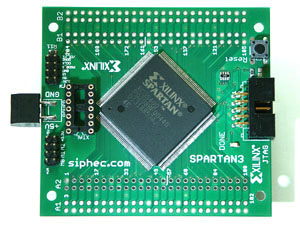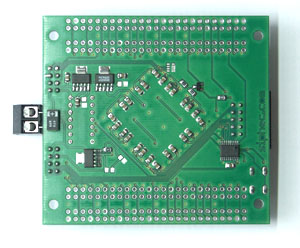 Board details:
Suitable for high speed design, very short trace lengths!
Top side:
Xilinx FPGA XC3S400PQ208, XC3S400-4PQG208C
JTAG header, mode pin header, config header
crystal sockel
reset push button, done led
3.5 to 5.5 Volt input connector
Bottom side:
3.3 Volt regulator for configuration flash and external use
2.5 Volt regulator for auxiliary
1.2 Volt regulator for core voltage
a couple of bypass capacitators
platform flash / configuration flash XCF02S

all pins are available on headers (2.54mm-/0.1" pitch)
all pins can be used, max. 144 User I/Os, max. 62 differential pairs, 8 GCLKs, 22 VREFs
available with and without soldered 2.54mm pin headers
different crystal oscillators possible
Dimensions:
Enhancement:
For configuration see Xilinx Configuration-HOWTO.