XC3S400

-FT-TB

Spartan-3 XC3S400 TinyBoard
Category: Development Board, Xilinx FPGA, Xilinx Spartan-3, Xilinx XC3S400, Spartan-3 Board
Keywords: FPGA, Field Programmable Gate Array, FPGA Development Board, FPGA Prototype Board, Xilinx XC3S400
Spartan-3 XC3S400 TinyBoard
Spartan-3 XC3S400 Development Board with XC3S400-4FTG256C and Platform Flash / Configuration Flash, Spartan-3 Board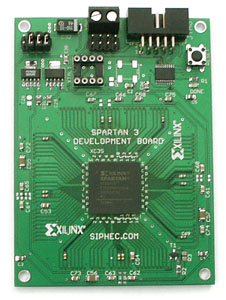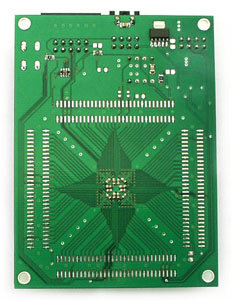 Board details:
Suitable for high speed design, very short trace lengths!
Top side:
Xilinx FPGA XC3S400, XC3S400-4FTG256C
JTAG header, mode pin header, config header
crystal sockel, DIP and SMD
reset push button
done led signals ready state (end of configuration mode)
3.5 to 5.5 Volt input connector
2.5 Volt regulator for auxiliary
1.2 Volt regulator for core voltage
platform flash / configuration flash XCF02S

Bottom side:
3.3 Volt regulator for configuration flash and external use
a couple of bypass capacitators
all pins are available on headers (1.27mm-/0.05" pitch)
all pins can be used, max. 173 user I/Os, max. 76 differential pairs, 8 GCLKs, 24 VREFs
available with and without soldered 1.27mm pin headers, standard is without
different crystal oscillators possible
Dimensions:
Enhancement:
For configuration see Xilinx Configuration-HOWTO.